*Note this only works with others who have installed the mod also, aka your friends.*​
Adds 24 new roles, with settings to change the chance of obtaining one. And also adds 5 new modifiers

​
The Mafia are a group of three Impostors:
The Godfather is a normal impostor and can sabotage and kill.
The Mafioso is an impostor who cannot sabotage nor kill until the Godfather is dead.
The Janitor cannot kill but can clean up bodies.
If the Janitor is the last one left and the setting is enabled, The Janitor will be able to kill but not clean
NOTE
- The Mafia only appears in games of 3+ impostors, even when set to a 100% chance.




Extras
​
New colors are added for crewmates so that they can be more colors​
A rainbow color has also been added. Anyone who equips this color will constantly switch between the colors of the rainbow.
​
Bugs, suggestions and requests

​
If you have any bugs or any need to contact me, join the
Discord server
or create a ticket on GitHub
​
Installation​
Mafia Mod Tutorial by
Sloppy Gaming
(Download File at the top of this page).
Skip to 3:53 for installation.​
SiriHack's Installation Guide:
Among Us BepInEx
Download the zip (1.2.0) for the latest supported version of Among Us (2021.3.5s)
Find the folder of your game, for steams players you can right click in steam, on the game, a menu will appear proposing you to go to the folders.
Make a copy of your game (not required but recommended)
Drag or extract the files from the zip into your game, at the .exe level.
Run the game and enjoy!
How It should look after Installing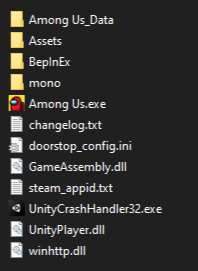 To uninstall​
Remove the files below from your Among Us Directory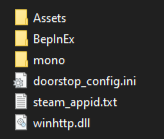 Changelogs​
v1.2.0
New roles: Snitch, Arsonist, Swooper, and Miner
New modifiers: Tiebreaker and Drunk
Exporting and Importing game settings which sync between versions 1.2.0 and future versions
Disconnect fix
Mayor additions - Abstain button, Option for Mayor's extra votes to be anonymous
Option for dead to see the roles of everyone
Custom colours now work!
v1.1.0
Separate versions for both v2020.12.9s and v2021.3.5s in History
New roles (see above)
New modifiers (see above)
The Engineer has been changed to the ExtraRoles version
Backend overhaul! This will make it easier to add new roles
New Button Art!
Maps and Impostor Count can be changed from the Lobby!
Shadows for the Custom Colours
Fixes:

The Jester and The Shifter unable to fix Sabotages
The Time Lord's Rewind not auto-force closing tasks
The Q button not working for Sheriff
The Shifter's Shift looking too much like a Kill
Changing colours would render you weirdly green in normal Among Us
v1.0.3
Fixes Engineer being able to Fix every sabotage
Fixes the Investigator being able to revive people voted out (and instead made it an option)
Fixes Footprints not appearing if a person walks over old footprints
Fixes graphical glitch where Jester and Lovers simultaneously win
Stopped players from spawning back into positions from the last game when time is rewound
Fixes Graphical Bug of Time Master's name not being blue in Meetings
Fixed Medbay Scan not working for custom colours
v1.0.2
This release fixes the following issues:
Swapper unable to vote
Mayor Vote Bank ending up negative
Anonymous Voting not working when Mayor is in a game
Chats not working in the lobby
Sheriff desync (I think)
Buttons being able to be used during meetings
v1.0.1
Fixed launch errors
Please use the Discord Server for any bugs/feature requests
v1.0.0
Initial Release (Doesn't Work)