Administrator
Staff member
BepInEx is a plugin / modding framework for Unity games (Among Us)​
For some mods, you need to install BepInEx addons, and it's simple :
Go on GitHub page and download the version compatible with your computer (x86 = 32 bits, x64 = 64 bits)
Open the archive with WinRar or 7zip
Extract all the files in Among Us root directory folder. (The file path is usually Steamlibrary > steamapps > common > Among Us.)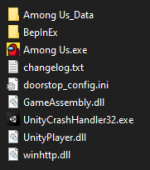 Your folder should normally look like this after installation​
BepInEx is now ready for your future mod installation !​