Among Us Distorted Comms​
A simple-to-use mod for Among Us that makes Comms Sabotage more powerful!
Distorted Comms
In game, when an impostor calls the Comms Sabotage, all players' unique distinctive features are removed and instead they all become similar to each other! This makes this (usually useless) sabotage much more powerful!
Configuration​
After running the game with mod installed at least once, a configuration file should be present at \BepInEx\config\mod.dardy.distortedcomms.cfg. This allows changing the following settings under header [Distortion]:
​
| Option​ | Description​ | Default​ |
| --- | --- | --- |
| Duration​ | The duration (in seconds) in which the fading out / fading in occurs.​ | 3​ |
| Back​ | The back color (RGBA in hex) of the distorted player when comms are active​ | 7F7F7FFF​ |
| Body​ | The body color (RGBA in hex) of the distorted player when comms are active​ | 7F7F7FFF​ |
Of course, you can leave them as-is.

NOTE: the config parser doesn't implement any error detection, so be careful​
Due to circumstances, There wasn't a chance to thoroughly test this mod. If you encounter any issues you are more than welcome to post it in the
Issues section!
​
Installation​
Distorted Comms Mod Tutorial by
DarkGunner45 Gaming
(Download File at the top of this page).
Skip to 1:58 for installation.
General Tutorial here:
Sloppy Gaming's Installation Tutorial
SiriHack's Installation Guide:
Among Us BepInEx
-Download the Mod at the top of the page for your specific game version (v2021.3.5s).
-Extract the contents of "Distorted Comms 1.0.0.zip" into your Among Us directory.
-Launch the game and enjoy!
How It should look after Installing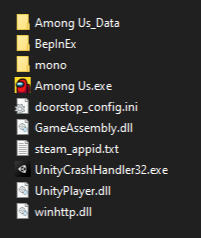 To uninstall​
Remove the files below from your Among Us Directory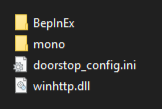 Changelogs​
v1.0.1
Fixed killer not being distorted for one frame after kill.
v1.0.0
Initial release of the mod, not thoroughly tested.