Among Us Hide Game Code Mod​
Original author : Herysia​
A BepInEx mod that adds a streamer mode to Among Us to hide the code of your lobby.
Hide Game Code Mod
When you create a new lobby, the code will be copied to your clipboard. When you enter a code or wait in a lobby, the code won't be visible on your screen.
View attachment 184
Changelogs​
v1.1.1
Updated the mod for the new Among Us version (2021.3.5)
v1.0.0
Installation​
General Tutorial here:
Sloppy Gaming's Installation Tutorial
SiriHack's Installation Guide:
Among Us BepInEx
Download the Mod at the top of the page for your specific game version (2021.3.31.3s).
Extract the contents of "HideGameCode-2021.3.31.3s.zip" into your Among Us directory.
Launch the game and enjoy!
How It should look after Installing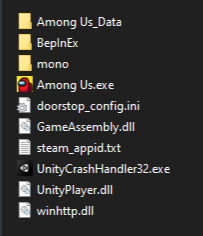 To uninstall​
Remove the files below from your Among Us Directory